Southside Productions is very proud to be bring this Chicago Blues Legend to Belleville for the first time ever!
Hot of heels of his 2nd Grammy Nomination for Best Blues Album (2016) for Muddy Waters 100, we are super excited to have managed to add another date to for this Chicago Blues Legend to play Belleville on his Canadian Tour! John Primer was the bandleader for Muddy Waters, as well as guitarist for Willie Dixon, and Magic Slim. He has shared the stage with other Chicago Blues greats such as Junior Wells & Buddy Guy. Come on out and see the music that inspired The Rolling Stones and started Rock & Roll!
The Belleville Club is the place to be on Wednesday May 11th. Only 100 Seats available for this show so purchase your tickets in advance to avoid disappointment. Discounted earlybird tickets are only available until May 1, 2016. Our last 2 shows have SOLD OUT and this show will likely be no different so don't wait! Doors open at 6:30pm for Cocktails and seating selection, and appetizer's provided by "L'Auberge de France".
NOTICE: THIS SHOW IS SOLD OUT for seating. A limited amount of standing room only tickets may be available at the door the night of the show.
Genre: Chicago Blues
For Fans of: Muddy Waters, Junior Wells, Buddy Guy, B.B. King, Magic Slim, The Rolling Stones & More.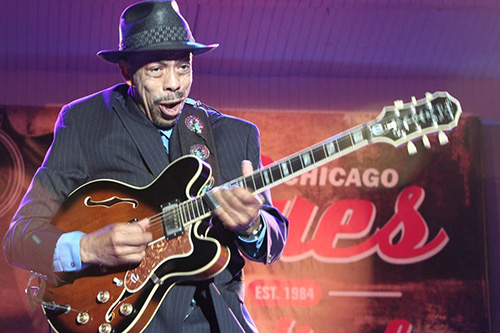 Be sure to watch the videos below to get an idea of what John Primer & The Real Deal is all about!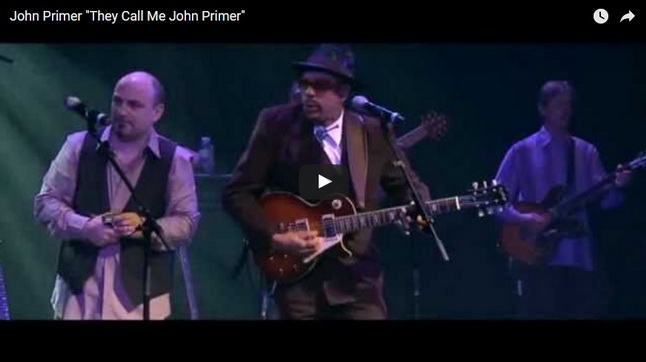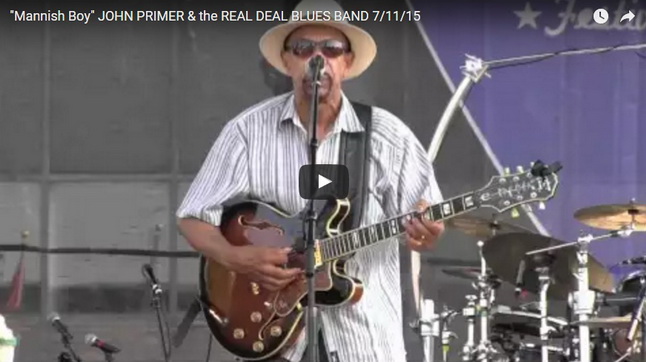 As the band name implies, John Primer is the real deal. Guitar player for both Muddy Waters and Magic Slim, he is out on the road supporting the recently released Muddy Waters 100 recording.
"THE REAL DEAL"
As the title of his critically acclaimed Atlantic Records CD suggests, Grammy Award and Blues Music Award Nominee, John Primer (71 years old!) is truly "The Real Deal." At 8 years old, John borrowed his first guitar and started to strum. Before that he played a homemade guitar built on the wall of the house with a broom wire, 2 nails, and 2 rocks to make it tight. With the sounds of Jimmy Reed, Muddy Waters, Little Milton, Elmore James, BB & Albert King reverberating through his Grandmother Laura Nell's tube radio, John was instantly hooked. Early inspiration came from his family steeped in spiritual, gospel, blues and R&B tradition. As a young boy John's mother knew he would be a singer, "he came out singing" she would say. John first appeared on stage at the local Baptist church, in his hometown of Camden Mississippi.
At the age of eighteen, feeling restless and in search of further audiences, John followed the path of his mentors and migrated to Chicago in the fall of 1963. He quickly found work in an era when Chicago's modern electric Blues sounds were first taking shape. Forming his first band, The Maintainers in 1964, John and his old Harmony guitar rocked such West Side clubs as, The Place, The Bow Tie, and Lover's Lounge. By 1968 John had left The Maintainers when the opportunity arose to front the Soul and R&B group The Brotherhood. Jamming late into the night and practicing by day, John was forming his own unique style and expanding his repertoire. John's success would lead him in 1974 to replace John Watkins in the house band at the world famous Theresa's Lounge on the South Side of Chicago. Over the course of the next 7 years, John would play with such originators as Sammy Lawhorn, Junior Wells, Buddy Guy, and Lonnie Brooks, all innovators sculpting the sound of Chicago Blues.
It was during this point in John's career that quite a few people were taking note of this outstanding performer. In 1979, master songwriter and bassist Willie Dixon persuaded him to join his band The Chicago All Stars. Traveling through the US, Mexico and Europe, John developed his skills as a rhythm guitarist, a lead slide player, and a powerful singer. Another blues master who believed in John Primer was none other than the "Hoochie Coochie Man" himself, Muddy Waters. Muddy recruited John not only as a guitarist, but also as an opening act and bandleader. As he did with so many other great musicians, Muddy served as a father to John, instilling in him an unrelenting passion for the music that gave birth to Rock and Roll. John stayed loyal to Muddy until his untimely death in 1983.
Fresh off the heels of his success with the Muddy Waters Band, John signed on with the legendary Magic Slim. For the next 14 years, he toured with Magic Slim & The Teardrops, bringing tight, house rocking sounds to every corner of the planet. While John was the bandleader of Magic Slim & The Teardrops, they were voted the best blues band in the world year after year and are still today thought of as the inventors of "the lump", Chicago Blues sound.
In 1981 John began playing at the Legendary Checkerboard Lounge on the South-Side of Chicago. He was the house bandleader, holding open jam nights and teaching the next generation how to play the Blues until the original nightclub closed its doors in 2001.
But John's days as a sideman were numbered, and in 1995 the veteran blues man released his major label debut "The Real Deal", on Atlantic Records. Deciding to make it out on his own, he began touring extensively in support of his twelve solo albums to date. John formed his independent record label, Blues House Productions in 2008 and released "All Original" his debut CD and then his second CD "Blues on Solid Ground". John's first 2 CD's "All Original" and "Blues on Solid Ground" have been nominated many, many times by the National Blues Foundation, Chicago's Blues Balst Awards, and have won Living Blues Critics Polls as well. His new record label is off to an amazing start. The people love John's music and he intends to keep manking it for a long, long time.
John is a Living Legend and has been giving the Lifetime Achievement Award many times. He is a Grammy Nominated Blues Artist and is one of the last Traditional Blues Artists with original Mississippi roots. He was taught by our founding father's of the Blues, the old way (some say, "the right way"). We need to cherish his history and celebrate his amazing music!
John Primer's 2016 Grammy Nomination for Best Blues Album is detailed below, which is a cd review by Toronto Blues Society (John's Blues Picks July 2015). Be sure to check it out as it is an exceptional cd, and you will be sure to hear some of these songs at the Belleville Club show in May!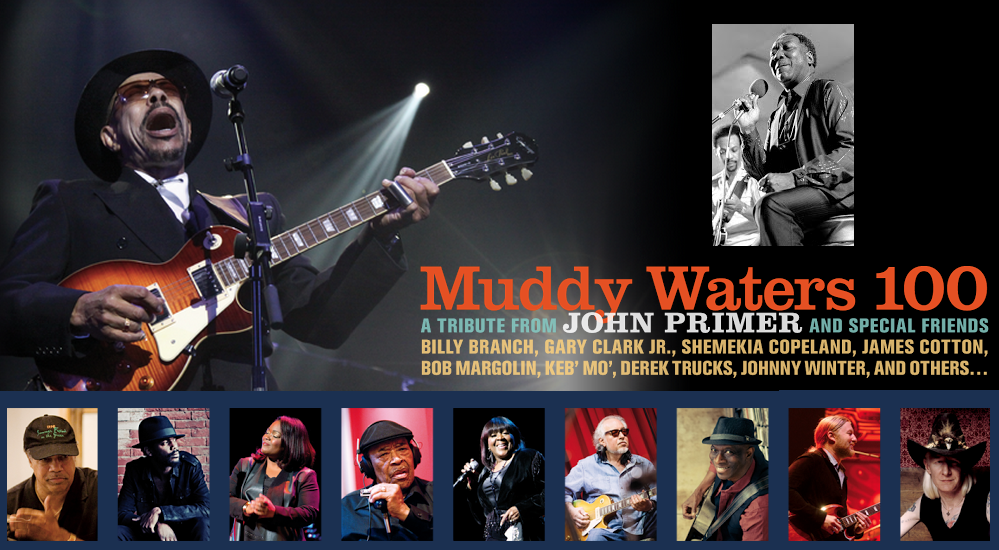 John Primer was in Muddy Waters' last band. He was already then and is to this day the foremost practitioner of Muddy's style of Chicago Blues. He brings to this role a unique ability to keep the music sounding fresh. It is fitting then that this tribute to Muddy on his Centenary is built around him. He gets an enormous amount of help from a Who's Who in blues today. The rhythm section is the same as on Raisin' Music's Chicago History discs: Billy Flynn on guitar, Felton Crews on bass, Kenny "Beedy Eyes" Smith on drums and Johnny Iguana on keys. They can play anything and the new settings of Muddy's most famous songs get most impressive performances here.
"Mojo" leads off with Shemekia Copeland joining Primer in a version that will make you forget how often you've heard it. "Still A Fool" has Derek Trucks playing slide. "I's Be Troubled" has long time Muddy band member Bob Margolin on slide. The song cleverly begins and ends sounding like the 78rpm disc on which it was first heard.
"I'm Ready" has one of the last recorded performances of Johnny Winter. This track just smokes. There are no guests on "Mannish Boy" but there is a prominent percussion part that seems quite at odds with the band performance plus some effects on Primer's vocal. Perhaps this is a comment on Electric Mud. "Rosalie" goes back to Muddy's Lomax recordings at Stovall's Plantation. This acoustic performance features a superb violinist, Steve Gibons, taking on the role of Son Sims on the original along with Billy Flynn on mandolin.
The later Muddy single, "Good News", is done in a more traditional style with James Cotton supplying his usual wonderful harmonica, after all he played on the original in 1957. "Trouble No More" gets a more contemporary treatment with a heavily distorted keyboard and Billy Branch on harp. "She Moves Me" has Mathew Skoller on harp in a version that reverts to the original. "Can't Get No Grindin'", has Branch on harp and group harmony vocals. Iguana solos on organ.
Gary Clark Jr. has no trouble moving from traditional to contemporary styles and that's what he does on this version of "Forty Days". The clippity-clop percussion track is back here, slightly less prominently. It's also present on the rarely performed "Last Time I Fool Around With You" which has Keb' Mo' as the slide guitarist. "I Feel So Good" is much more traditional and a fine performance that Cotton solos on to great effect.
The program concludes with "Feel Like Going Home", again in a most traditional form. The slide part here is perfect, Primer this time. Primer has done a marvelous job for his mentor and producer Larry Skoller has assembled a fitting tribute that combines traditional and contemporary in a most listenable way. The originals are imprinted in our subconscious and I think you'll agree he's overcome that.
The disc comes with a 48-page book full of rare photos and a new essay by Muddy biographer, Robert Gordon.